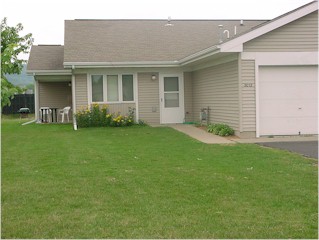 Cedar Meadows opened 1993 as a mixed income housing community. It consists of 12 duplexes (24 rental units) on South Locust Avenue, Holmen, WI. 16 of the units are two bedroom and 8 are three bedroom. All units have an eat-in kitchen, single car garage, washer/dryer hookups and clothes lines in backyard. The two bedroom unit has one bathroom, the three bedroom has one and one-half baths.
Cedar Meadows was built as joint venture of La Crosse County Housing Authority (LCHA) and Heartland Properties, Inc. Permanent financing is provided by Wisconsin Housing and Economic Development Authority. It is professionally managed by LCHA.
Twenty of the 24 units are reserved for families with limited income. Income eligibility and number of bedrooms for these units are listed below: Note that there must be medical evidence that a family of two persons (other than parent and child) require two bedrooms or a family of three persons with only one child require a third bedroom. Rents are $505/month for a two bedroom and $625/month for a three bedroom in the twenty restricted income units. The four units which are not income restricted have 2 bedrooms and rent for $655/month. (The income maximums and minimums listed below do not apply to these four units.) All residents pay their own utilities.
Income minimums: Income must be approximately three times the combined amount of rent and utilities.
Lease Period, Security Deposit, Rent: Lease periods are for one year. A security deposit is required at the time of move in equal to one month's rent. There is a $10 key deposit per apartment key. Rent is due the first day of each month. A late fee of $25.00 is charged for rent not received by the fifth day of the month. A $25.00 fee will be assessed for NSF checks.
Pet Policy: Dogs may not exceed 25 pounds. Other pets are allowed according to the Village of Holmen ordinances, LCHA policy and service animal regulations. A $300 deposit is required for dogs or cats and the tenant must sign our pet policy agreement.
Floor Plans: